FEBRUARY 2019
Muguruza's Karaoke Confession Got WTA's Ear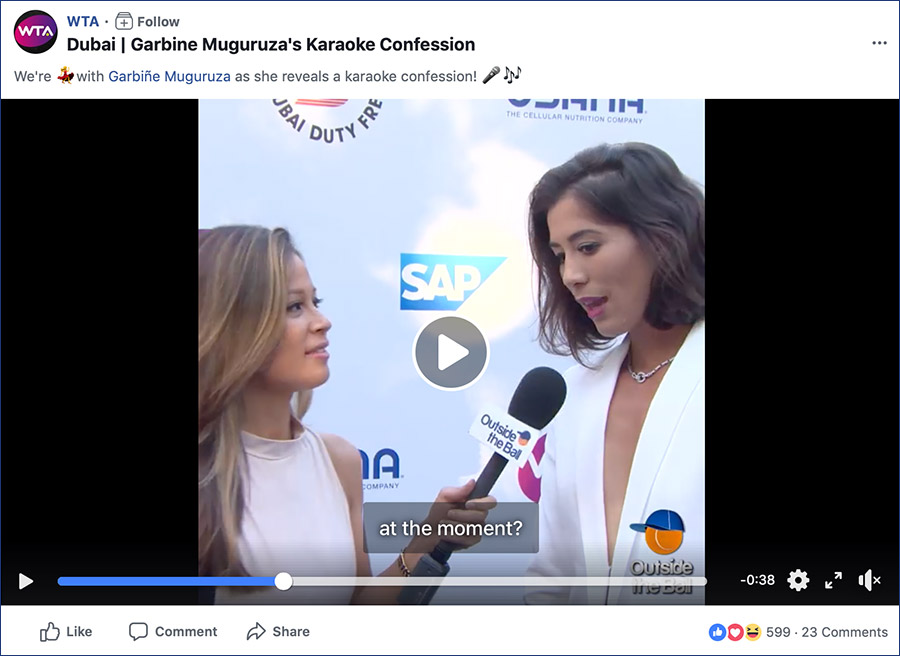 Garbine Muguruza talked to Outside the Ball about dancing on her Instagram and being too shy to try karaoke. WTA's official Facebook page shared the playful interview to their fans!
---
Outside the Ball Goes to The Dogs With Monica Puig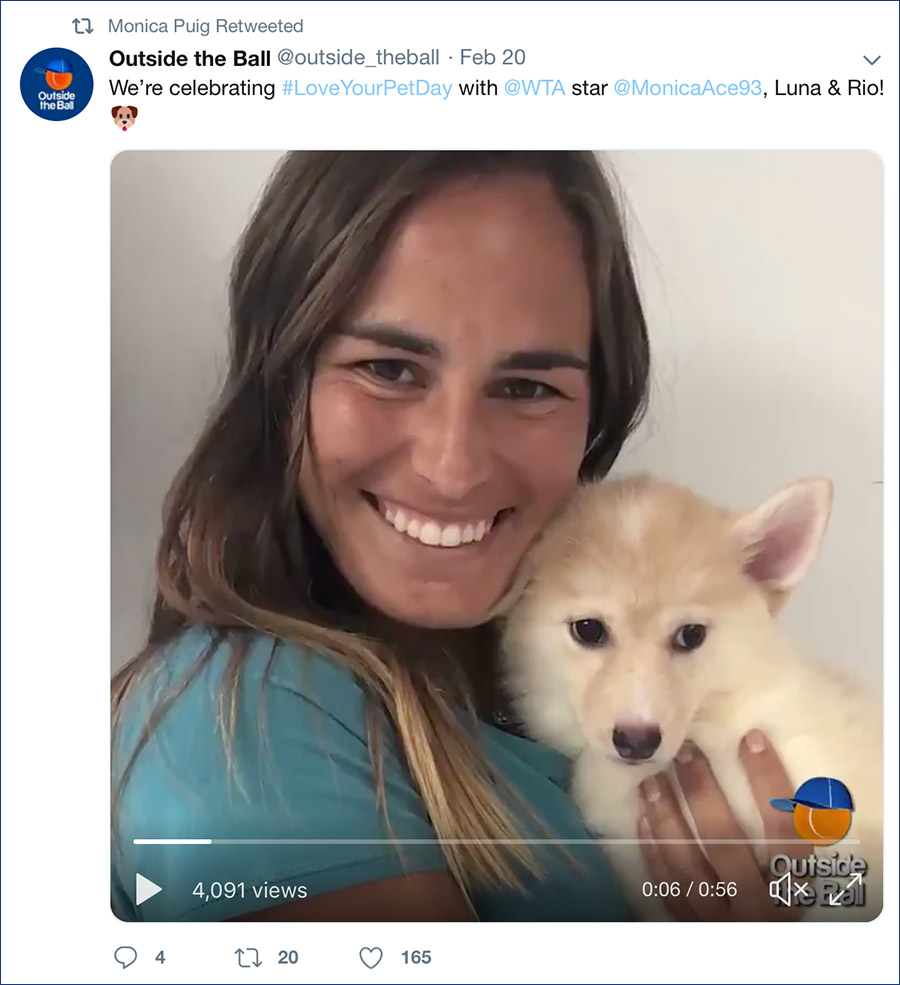 Monica Puig shared our interview to her Twitter followers in celebration of National Pet Day! The special video featured the tennis star talking about her growing fur family.
---
A Sweet Interaction with Donna Vekic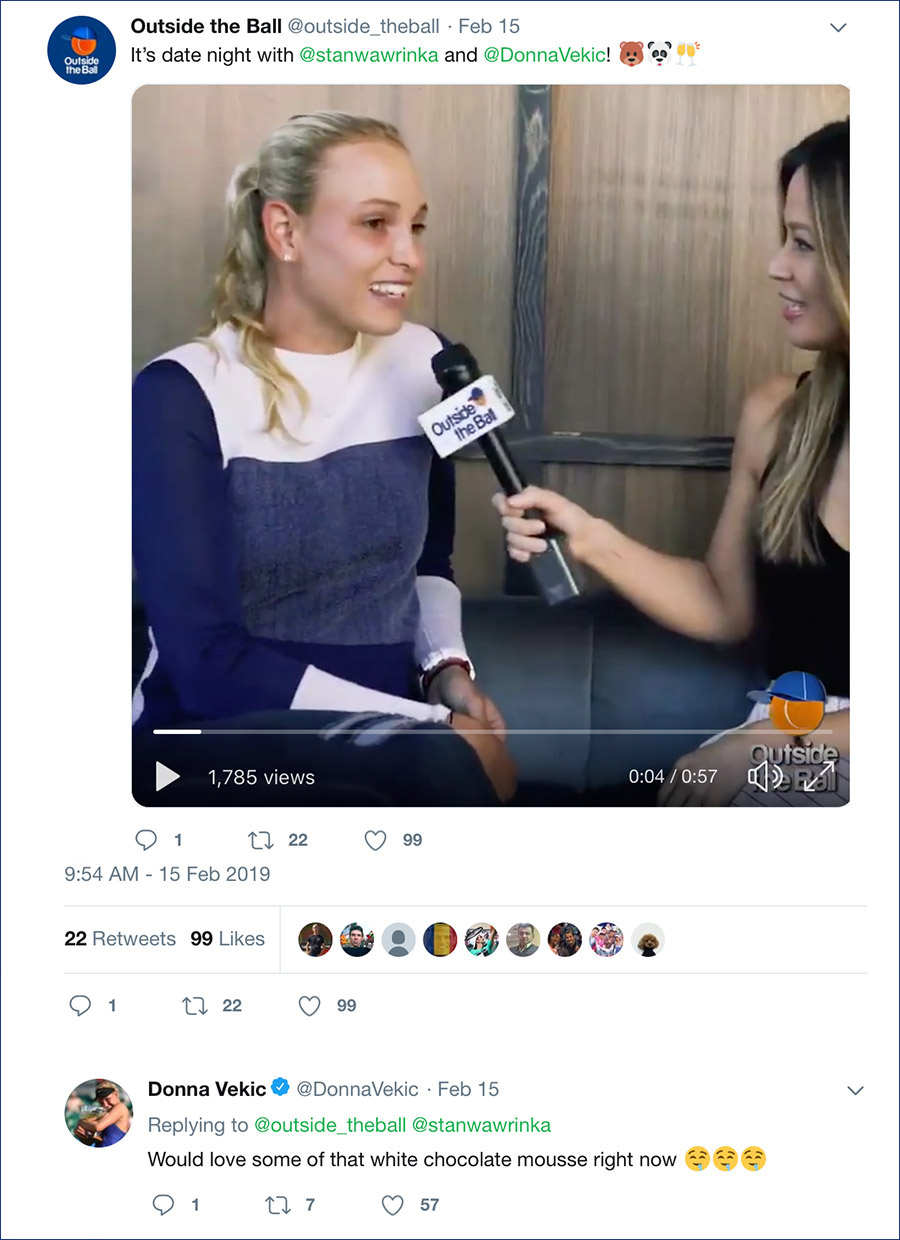 Love Week ended as Donna Vekic and Stan Wawrinka joined Outside the Ball to discuss their date nights. On Twitter, Vekic left a comment on the delicious interview.
---
OTB's Interview Was a Hit With Monica Puig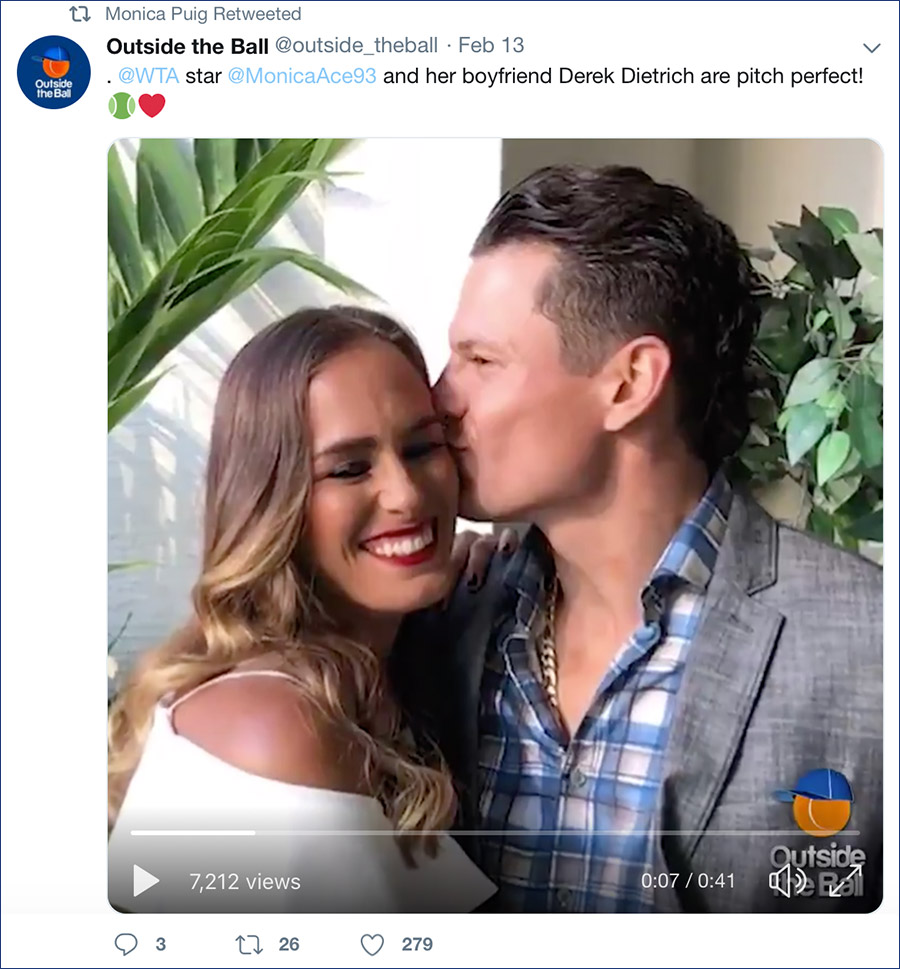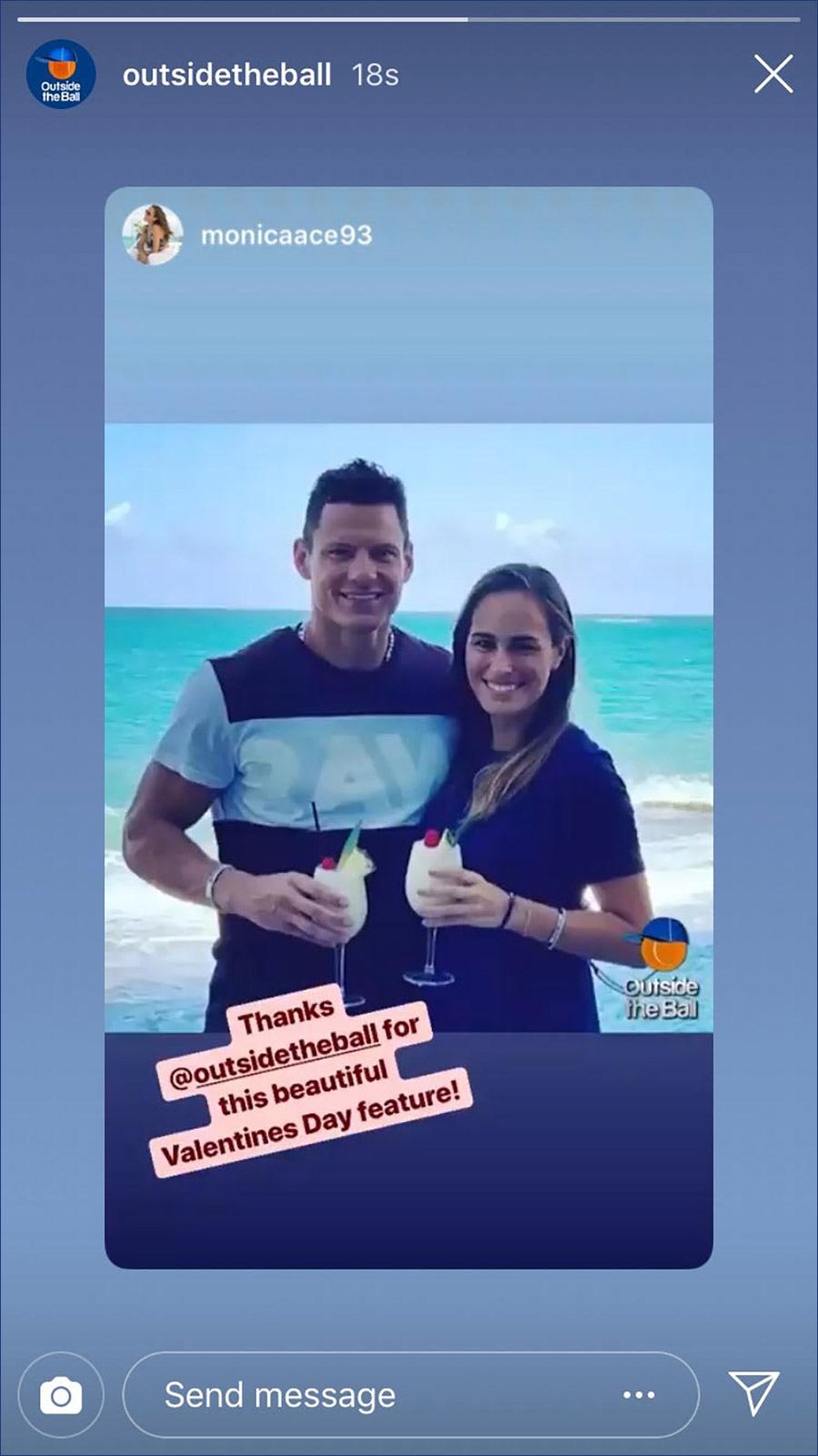 Love Week continued with Monica Puig describing her relationship with baseball player Derek Dietrich. The romantic interview hit it out of the park as Monica Puig shared the interview on Twitter and in her Instagram stories!
---
Kevin Anderson Served Marriage Success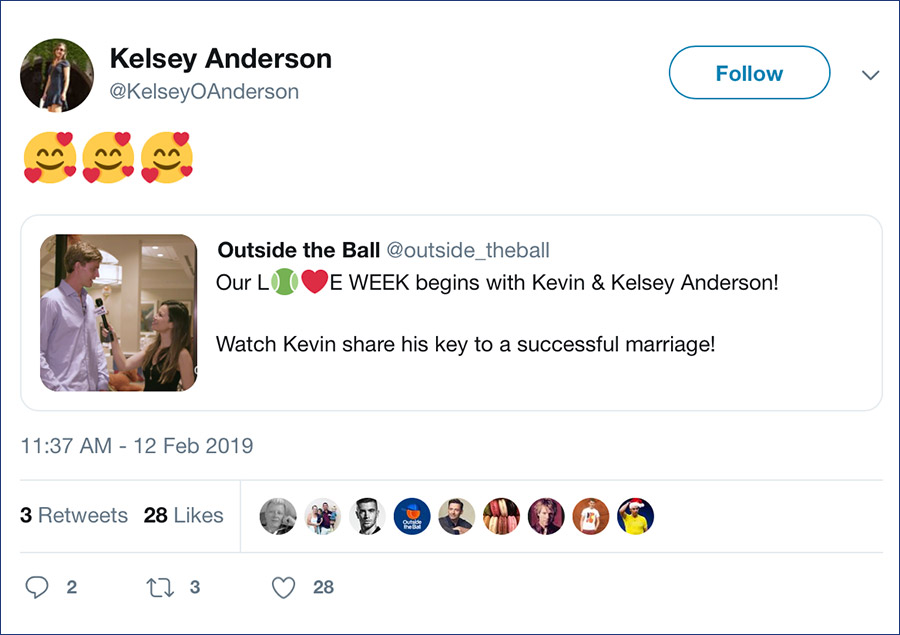 Outside the Ball began Love Week with Kevin Anderson. The ATP pro told us his key to a successful marriage and his wife approves. Kelsey Anderson shared the interview on Twitter and the couple liked the video on our Instagram.
---
Love Means Everything At Outside the Ball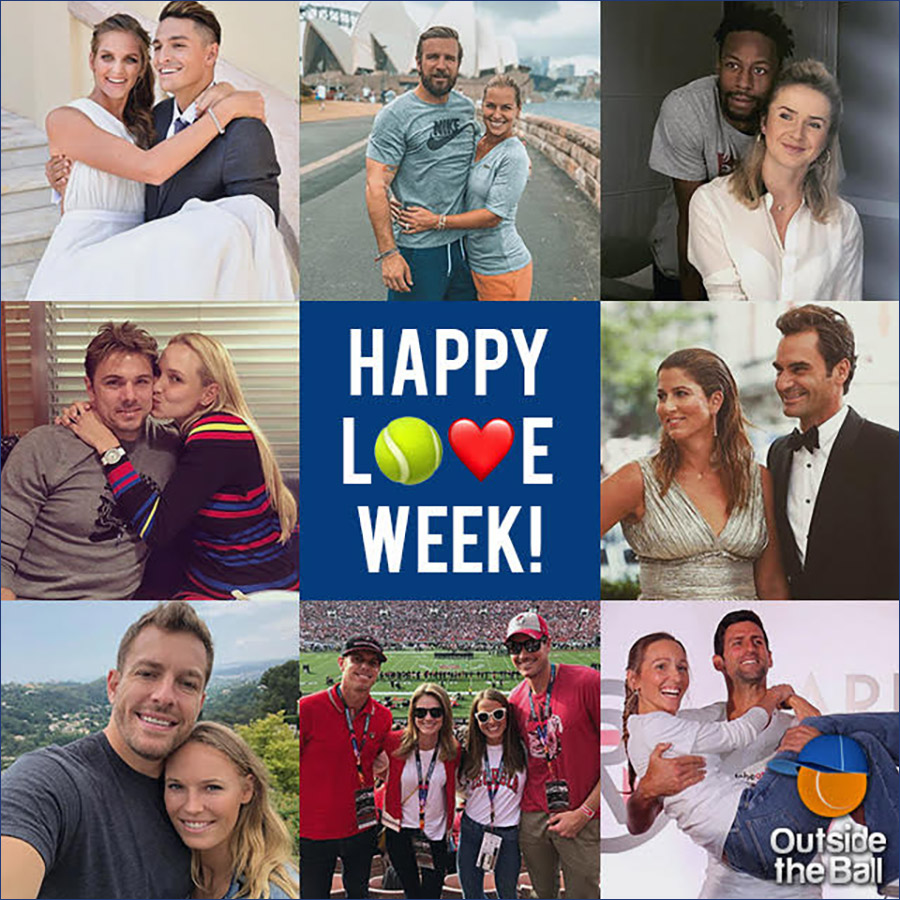 In honor of Valentine's Day, Outside the Ball featured tennis couples all week long. Love Week included interviews with Kevin Anderson, Monica Puig, Donna Vekic and Stan Wawrinka sharing insights into their personal lives.
---
A Sweet Treat with Sugarpova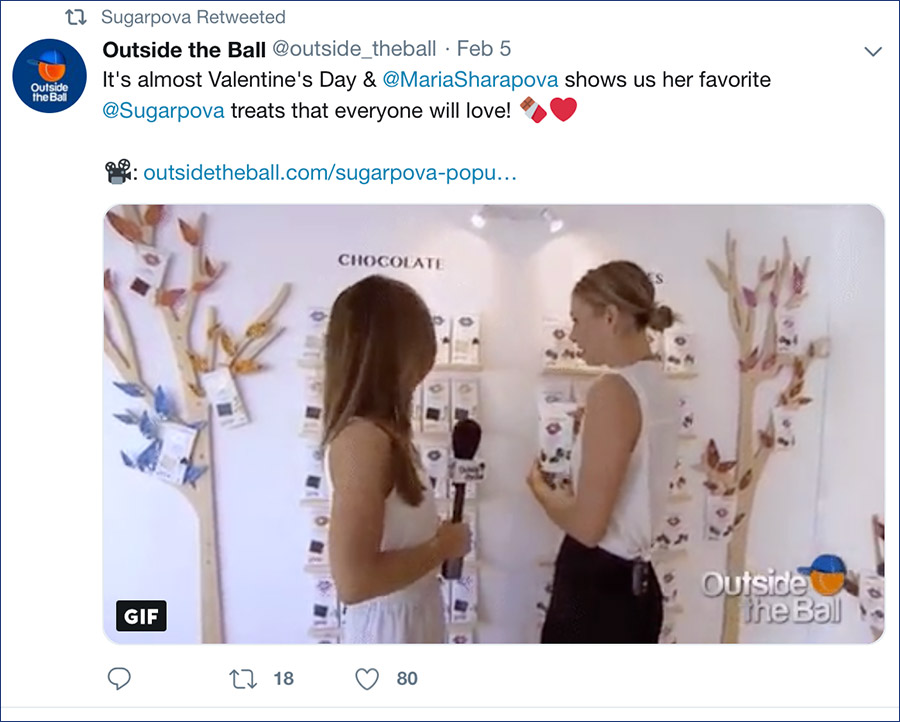 Outside the Ball prepared for Valentine's Day by looking back on our exclusive tour of the Sugarpova pop-up shop with Maria Sharapova. The WTA star showcased her favorite products that everyone will love. On Twitter, Sugarpova shared the video to their followers.
---
JANUARY 2019
WTA Plays Sister Sister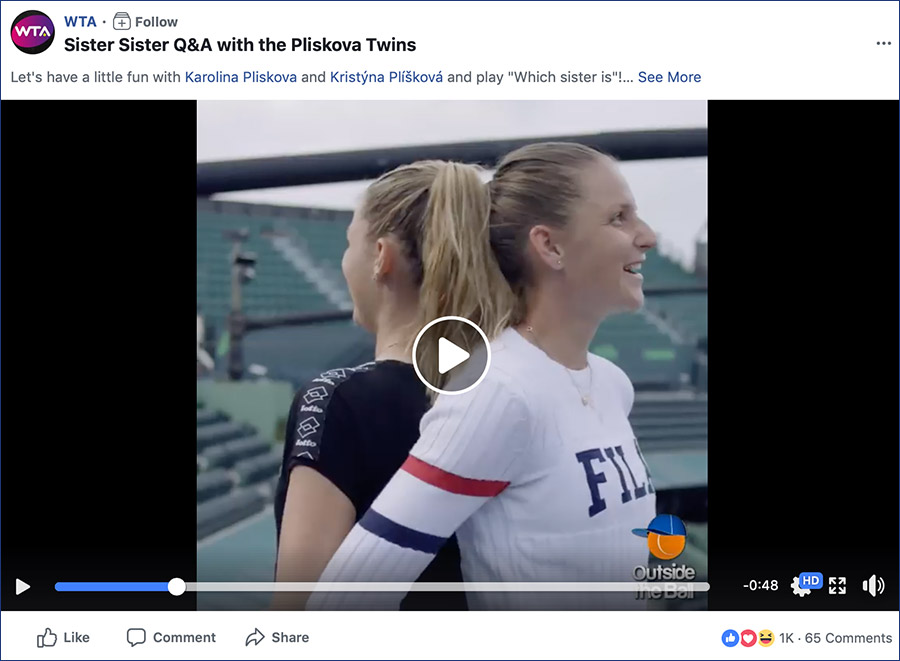 The Official WTA Facebook account shared our interview with Karolina and Kristyna Pliskova.
---
Pliskova Twins Reveal Their Differences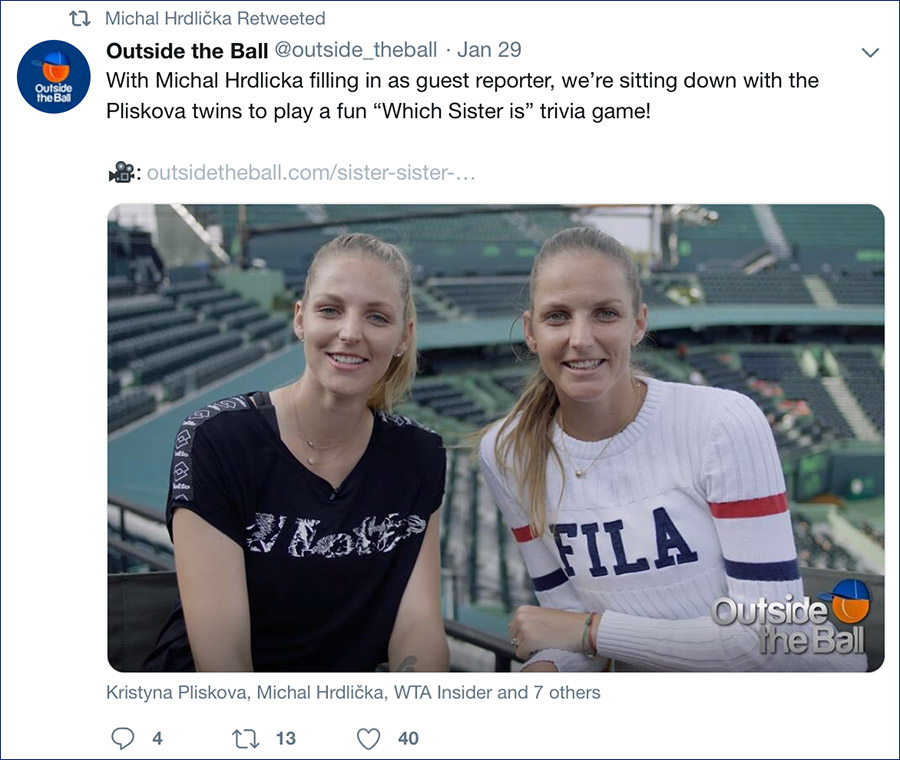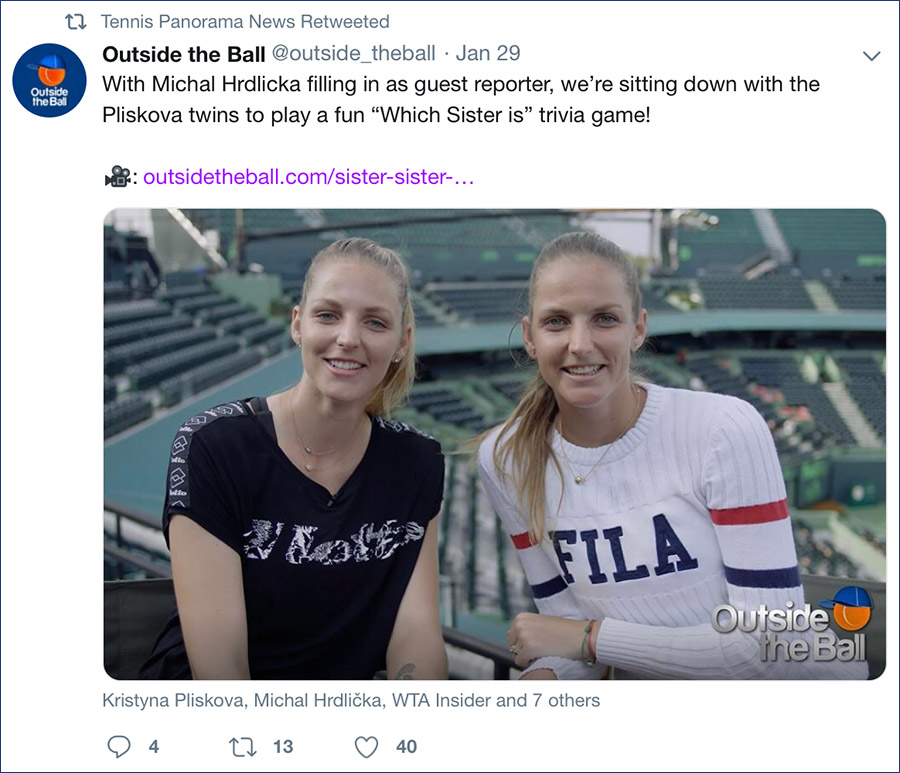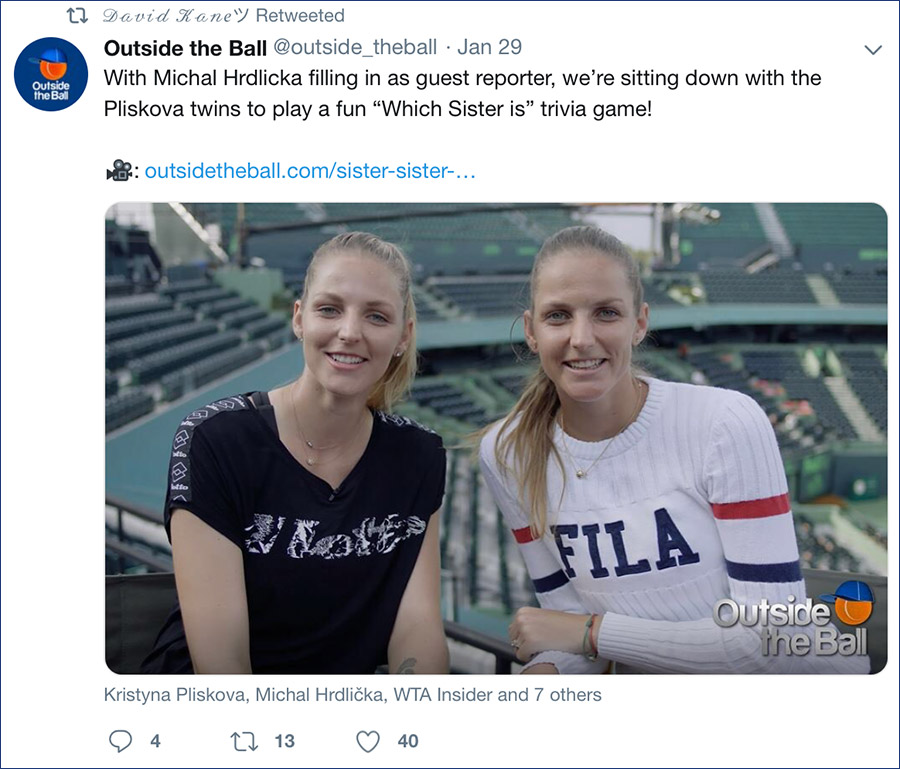 In a fun trivia game, Karolina and Kristyna tell Outside the Ball viewers which sister is more artistic, takes longer to get ready, and more. Karolina's husband Michael Hrdlicka, who was our guest correspondent for the interview, shared the video to his Twitter followers. The video was also shared by Tennis Panorama News and WTA's Digital Content Producer David Kane.
---
We're Thankful For Australian Open's Tennis Cares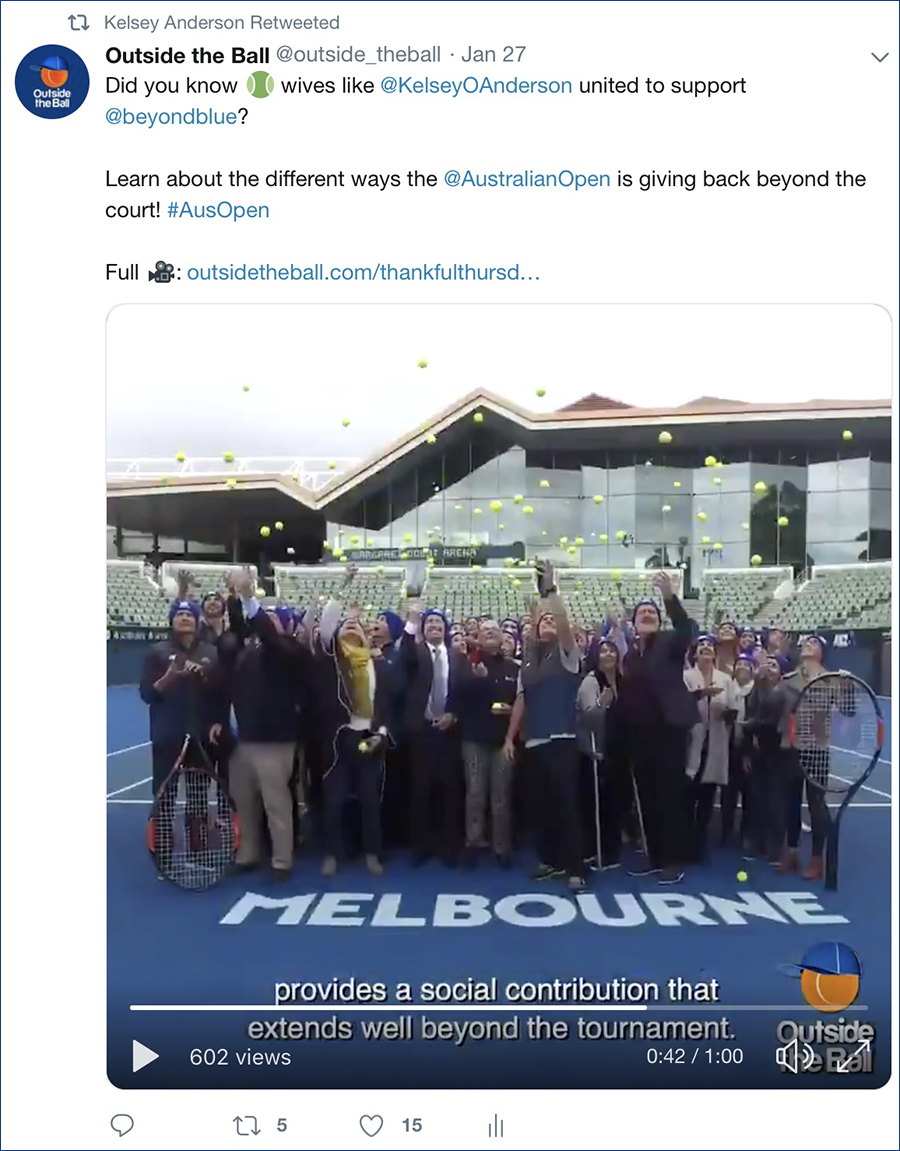 OTB's Thankful Thursday celebrated Australian Open's Tennis Cares in January. The Grand Slam tournament goes above and beyond the court to make a difference in the community with various initiatives. At one of these events, tennis wives like Kelsey Anderson came together with Beyond Blue to raise money and awareness for mental health. Kelsey Anderson shared our video to her Twitter followers.
---
Stefanos Tsitsipas Acts As Our Travel Guide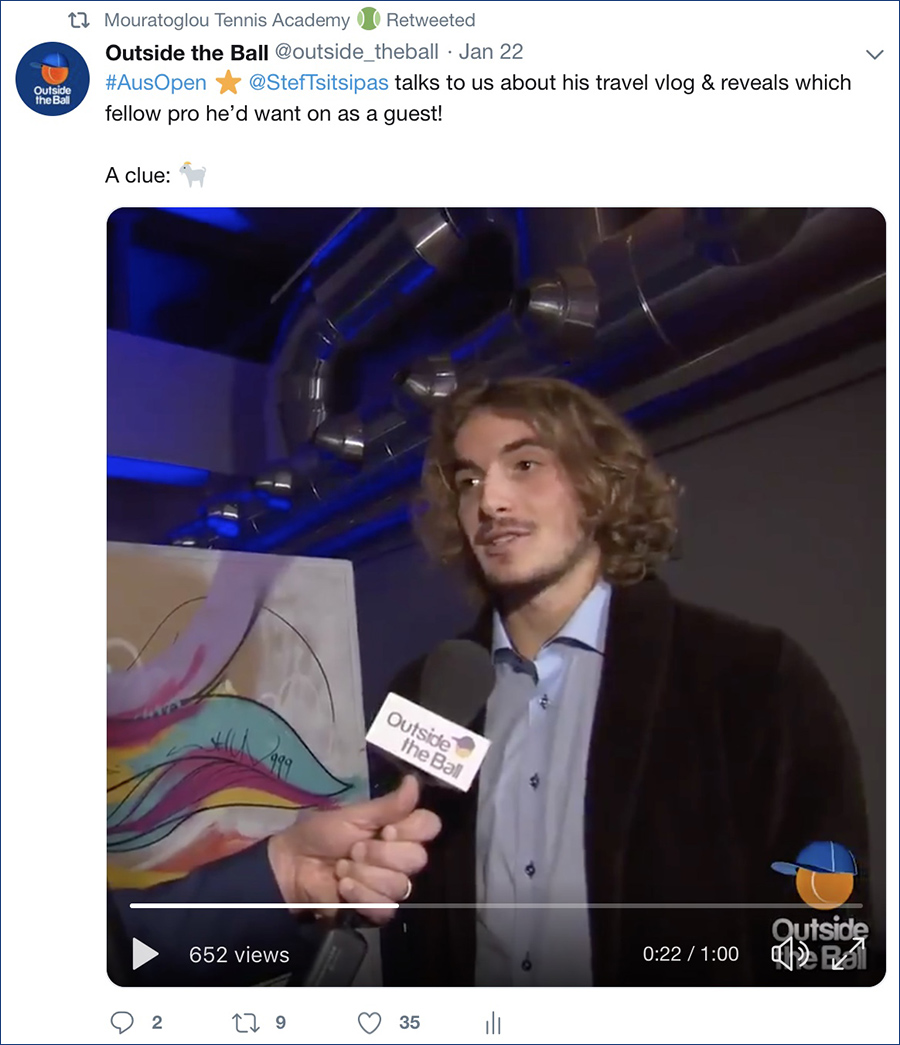 OTB correspondent Murphy Jensen spoke to rising star Stefanos Tsitsipas about his travel VLOG on Youtube that has everyone talking, including Maria Sharapova. Our interview got the attention of the Mouratoglou Tennis Academy who shared the video to their Twitter followers.
---
Outside the Ball Had A Twitter Moment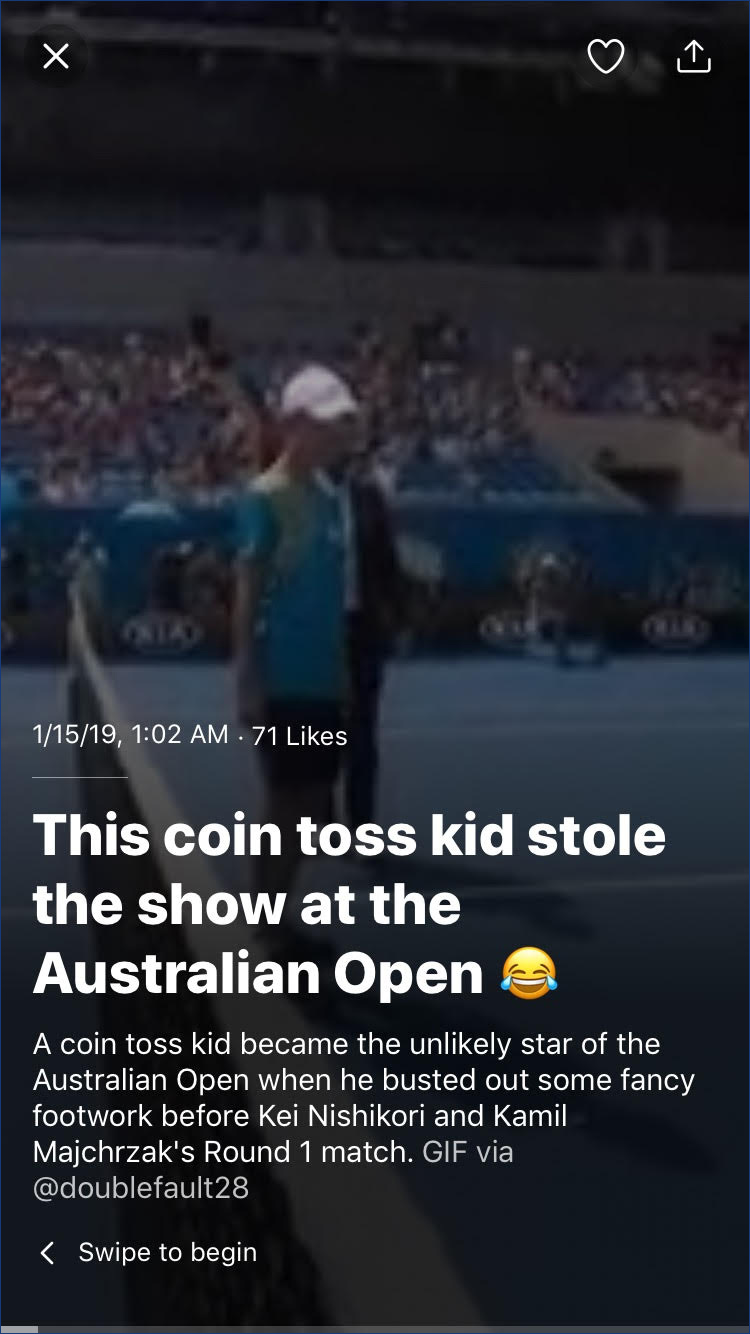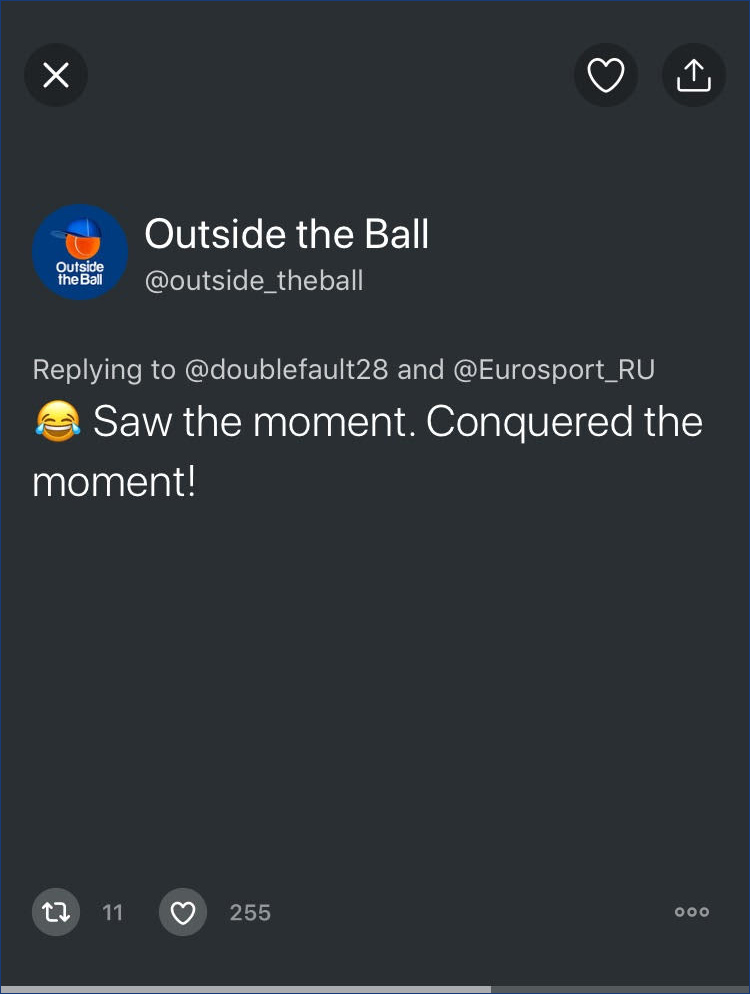 During the Australian Open, a kid stole the show with his coin toss dance and Twitter took notice. In their featured Moments, Twitter collected tweets about the funny scene that included our reaction.
---
Juan Martin del Potro's Team Is Singing Along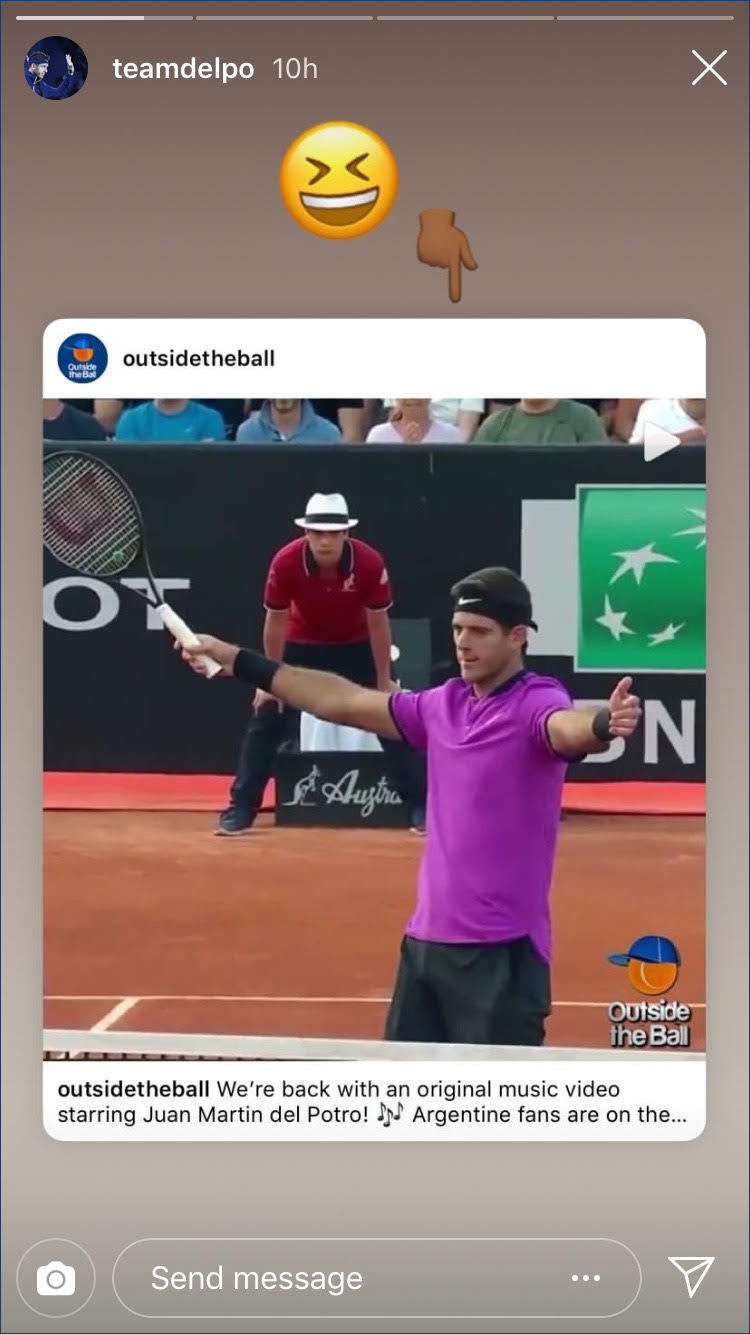 Outside the Ball launched a Coldplay inspired music video to celebrate the career of Juan Martin del Potro. As the original song plays, viewers see Argentine fans on their feet during some of del Potro's greatest on court highlights. Juan Martin del Potro's communications team told his fans about our video on their Instagram story.
---