Week of October 10, 2016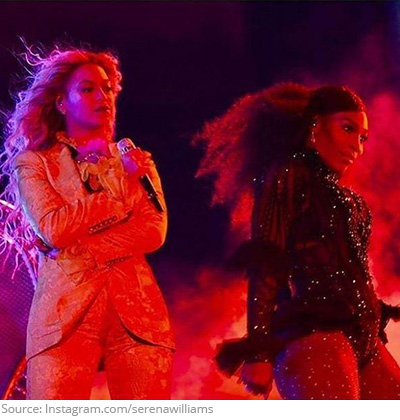 1. Showstopper! Serena Williams continues to buzz around the beehive as she joins the Queen B herself on stage during a live show! It's hard to bee-lieve their was so much talent under one roof!

2. Winning ways! The face you make when you're Viktor Troicki and you're victorious against a champion like Rafa Nadal.

3. A matching set! They say two is greater than one, and we suspect Petra Kvitova would agree!

4. Shanghai Nights! Tomas Berdych and Stan Wawrinka were invited to a night out in Shanghai with no strings attached, except for the strings that were on the puppets!

5. Fall'n in love! Simona Halep is showcasing the beautiful feel of autumn. We can almost hear the crunch of the leaves!

6. A Frame of Mind! Ivan Dodig had his directorial debut courtside. We know where to find him once his tennis career comes to an end!

7. Ink masters! Aga Radwanska and Svetlana Kuznetsova tried their hand at Chinese Calligraphy! The tennis pros hope their attempts will be a stroke of genius!

8. Gold rush! Andy Murray better watch out! He has been collecting so much gold, people will start to believe he is a pirate!

9. Fashion forward! Ana Ivanovic told us about her dream fashion line, so it's not a surprise to see her mingling with a couple fashionistas! The stunning tennis star shared a photo with equally stunning models Bojana Krsmanovic and Xenia Tchoumi.

10. You've got mail! Novak Djokovic and Rafa Nadal are competitors on court, but off court, they are pen pals!
Stay tuned next week for OTB's Top10s Photos!
Related Videos: