Week of October 31, 2016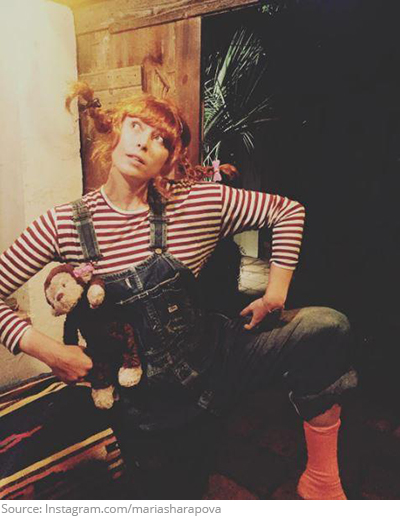 1. Watch out, World! Here she comes! Maria Sharapova transforms into the feisty youngster, Pippi Longstocking, for Halloween. She's really got character!

2. The witching hour is about to begin! Andreas Seppi and his friend are going to put a spell on you!

3. They told Laura Robson she could become anything, so she became a Tiger! If the stripes fit, wear em!

4. Scooby Doo & the Wrestlmania Mystery! When Andre Aggasi woke up this morning, he didn't look well. In fact, he looked exactly like Hulk Hogan. Don't worry, tennis fans! Daphne Blake ( Steffi Graf) and her faithful pup are on the case to solve this identity crisis!

5. That's how she rolls! If you are what you eat, Caroline Wozniacki has been going hard on the pumpkin spice this year!

6. Sweater weather! From pumpkin spice to holiday cheer, the Bryan Brothers are already set to have a merry elfin Christmas!

7. The perfect accessory! Dominika Cibulkova is celebrating her incredible season with the WTA Finals trophy! That trophy shines almost as bright as her smile!

8. Beach bros! It's always better to travel with friends and Jiri Vesely is in good company!

9. Prime time! Canada is for cuties as Genie Bouchard takes a selfie with Prime Minister Justin Trudeau. And yes, the rumors are true. The Prime Minister put a ring on it! An Olympic ring, that is!

10. Sharing the love! Novak Djokovic is a busy guy, but he never fails to share his heart and his time with devoted fans!
Stay tuned next week for OTB's Top10s Photos!
Related Videos: