Week of September 12, 2016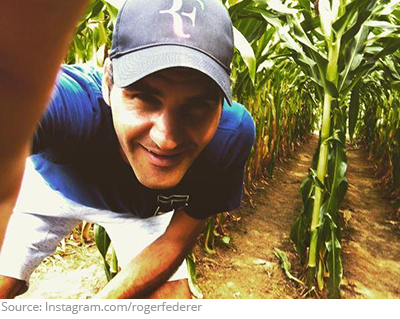 1.Come ear often? Roger Federer is having an a-maize-ing time getting lost in a corn maze!

2. A signature look! Caroline Wozniacki and Venus Williams are all smiles as they support Serena Williams at her Fashion Show. Both tennis stars are wearing Serena's Signature Collection!

3. A toast to a good breakfast! Fabio Fognini knows that breakfast is the most important meal, and what better way to start the day than with Nutella!

4. Drinking game! Some people see life as the glass half empty. Some see life as the glass half full. US Open Doubles Champions Lucie Safarova and Bethanie Mattek Sands skip the glasses all together and go straight for the trophy!

5. The Stanley Cup! The sun above New York City helps Stan capture that Grand Slam glow that no Snapchat filter can provide!

6. Live from New York.. it's the Grand Slam Media Tour! Donna Vekic joined her boyfriend Stan Wawrinka for a champions guide of American television. The tour included a stop at The Tonight Show with Jimmy Fallon. It's hard not to fall-on in love with the famed late night host!

7. Their love is criminal! We've heard of date night, but Tomas Berdych and his wife Ester are taking their relationship to new heists! Luckily robbing a bank for these two was just a bit of safe fun and they didn't end up as jail birds!

8. McWinning! It can be hard to Kerb your enthusiasm when meeting a Grand Slam Champion, even if you're a hunky TV doctor like Patrick Dempsey!

9. Center of attention! Things got physical during rookie initiation for the Australian Davis Cup team. Newcomers Alex De Minaur, Matt Reid and James Duckworth showed they have a very tight friendship!

10. Gift that keeps on giving! Juan Martin delPotro and Andy Murray exchange traditional Davis Cup presents and gave us all the gift of looking handsome in their attire!
Stay tuned next week for OTB's Top10s Photos!
Related Videos: