Week of September 26, 2016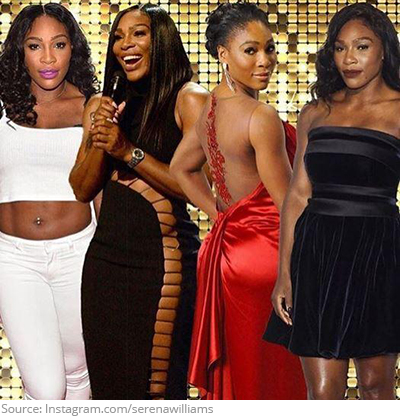 1. Weekend wardrobe! Serena Williams looks fresh off the runway as she showcases her killer off court style! When you want to dress to impress, look no further than the best!

2. Buddha's Delight! From tennis to temples, Feliciano Lopez gets in the spirit of things while in China!

3. Sun kissed! Alize Lim avoids those awkward tennis tan lines by sunbathing on the court!

4. Have you ever seen the rain-delay! While in New York City Radek Stepanek met the legendary Rod Stewart! Do ya think they're sexy?

5. Charlies Angels! Belinda Bencic, Karolina Pliskova, and Kiki Mladenovic know how to take a selfie that can stop traffic and fight crime!

6. Pandamonium! Grigor Dimitrov couldn't resist a baby bear hug!

7. What happens in Vegas, makes it on a t-shirt! Celine Dion was music to Laura Robson's ears!

8. A slice of heaven! All the salmon are swimming upstream straight onto Vasek Pospisil's plate! He is having soy much fun in China!

Garden party! Genie Bouchard was surrounded by so many plants, you couldn't be-leaf it!

10. Nama-STAY! Good dog! Novak Djokovic understands the benefit of a good stretch, but Pierre was less amused. He thought Novak said fetch!
Stay tuned next week for OTB's Top10s Photos!
Related Videos: