Throughout the year, tennis players have a unique opportunity to explore the cities they visit through the ATP and WTA tours. Ahead of the Miami Open, players like Dominic Thiem experienced Jungle Island. This park combines Miami's tropical landscape with a jungle of fascinating animals. Outside the Ball's Mayleen Ramey joined Dominic on this wild adventure away from the tennis court.
After meeting a sloth, palling around with parrots and holding an epic snake, we asked Thiem what his favorite animal was in the world. "A penguin" Dominic said to a surprised Mayleen. "I just love them. They always look happy and seem like they never have a problem." Dominic couldn't leave out the funny and recognizable walk that penguins have, but despite some encouragement from our host, Thiem declined to recreate the waddle himself.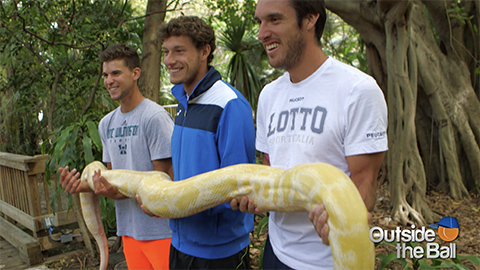 The Austrian tennis star is a known animal lover and environmental activist, supporting causes like 4Ocean and the World Wildlife Fund. This Earth Day consider supporting an environmental cause that's important to you, as we know Dominic will continue his effort to make the world a better place for us all.