The second episode of our fun-filled web show has arrived and as host Mayleen Ramey will tell you, "these are not your ordinary tennis interviews!"
To start us off, your favorite pros share what celebrities they find themselves fanning over. Genie Bouchard may be a Belieber, but she gave a shout out to her other "Canadian homeboy", Drake. Pretty woman, Simona Halep, swoons over the likes of Gerard Butler and Richard Gere. Meanwhile, Grigor Dimitrov couldn't resist an impromptu karaoke session with Mayleen as his background dancer. The band? Backstreet Boys, of course!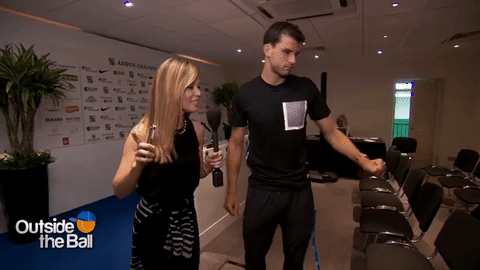 But what about the celebrities themselves? Outside the Ball joined the hilarious and tennis-loving Will Ferrell, Rebel Wilson, and Jon Lovitz out on the courts. On whether she'd ever consider playing professionally Rebel Wilson replied, "I mean, I don't know. If Venus or Serena needed a partner. Like a shorter, fatter, white girl as a doubles partner, I would be there!"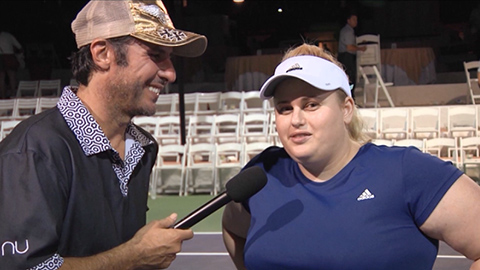 From training to the after party, Mayleen gets an exclusive invite from Dominika Cibulkova to get glammed up for a player's party. After all, girls just want to have fun! And boys, apparently, just want to play golf! Outside the Ball then tags along with Team Djokovic as they tee off on the green and also accompanies Jack Sock and John Isner for putting practice.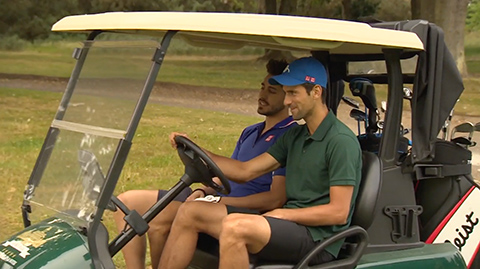 Like any great finale, our web show ends with a song and dance number. Outside the Ball premieres it's original music video, inspired by Taylor Swift's "Shake it Off" and Ana Ivanovic. On viewing the video, Ana approves and even boogies along. "Their (dance moves) are fun! Actually I think I can do some of these" Ivanovic says before her and Mayleen create the wave. If Episode 2 had you jumping for joy, let us know your favorite moments and please share with tennis friends!