Outside the Ball stopped by the Asics store in New York City to celebrate their new partnership with Patrick Mouratoglou. After a Q&A with the popular coach, Asics provided the intimate group of guests with full Asics gear for a very special tennis lesson that our host Mayleen Ramey won't soon forget.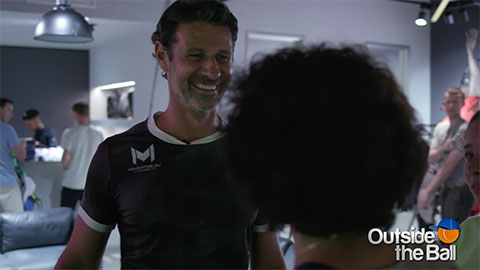 With a clothing change complete, the group walked together on the streets of New York to their next destination. Walking alongside Patrick, Mayleen confessed she was nervous about the upcoming tennis lesson and revealed the idea of hitting a backhand had her hearing screams. "First thing we are going to do is put music in your ear so you don't hear any screams." Mouratoglou said with a laugh, comparing Ramey's fear to The King's Speech. "One of the major issues is being nervous because it prevents you from feeling the ball, and when you don't feel the ball it's difficult. It has to be natural. The more natural the better, always." Patrick continued.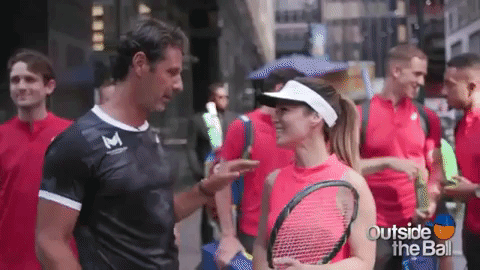 They arrived at Grand Central Terminal, where the Vanderbilt Tennis Club is hidden inside. The secret court has been a bucket list item for Mayleen so the excitement and nerves were growing. Patrick, who is currently coaching Serena Williams, described the tennis drill he wanted to see the group perform. Starting with the forehand, Mayleen took to the drill with ease. "I'm going to hear you sing finally," Patrick teased before he prepared Mayleen for the backhand side. "Relax relax relax. We said we were going to relax." After a few balls Mouratoglou stopped and approached Ramey. "I'm going to tell you just one thing. When you hit a forehand you don't care, when you hit a backhand you care. It's the same. Your backhand is good, no really."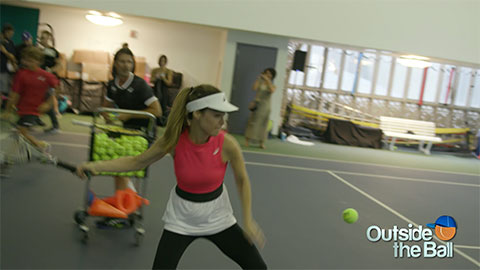 Patrick wasn't holding back in this master class of coaching technique and he had Ramey hitting backhands like a pro soon enough. It's clear to us that Mouratoglou and Asics are a perfect match, and we thank them for this exclusive opportunity to train with the best.