This week Outside the Ball continues it's Beyond the Game series with the Miami Open. In the opening episode, host Mayleen Ramey guides fans through the tournament's epic transformation into the Hard Rock Stadium.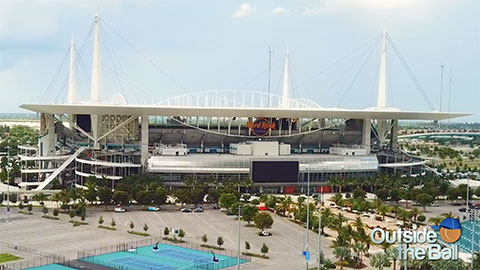 Welcome to Miami! This festive beach city brimming with art and culture, creates for two weeks of exciting tennis with passionate fans soaking in the atmosphere from day to night. After 32 years on Key Biscayne, an intimate tropical island town, the Miami Open presented by Itau announced a move to the Hard Rock Stadium, home of the Miami Dolphins. But first, the impressive football stadium had to undergo a major tennis makeover. Days before its public debut, Outside the Ball got an exclusive tour of the grounds with tournament director James Blake.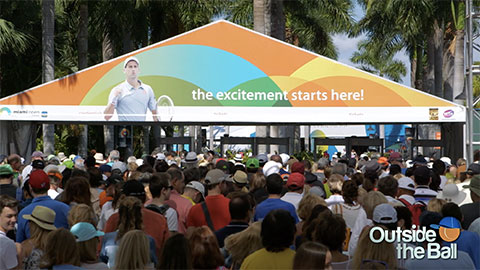 "This is a football field, the Miami Dolphins play here. They built the court on the field. This is the view you're basically courtside but check out the seats. These nice plush recliners, watching some tennis in the Florida sun, I like this new stadium." Mayleen described as she experienced the best seats in the house and documenting every moment for our fans on Instagram Live.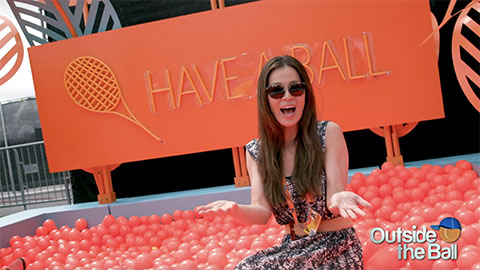 Next we sat down with James Blake. "We wanted to make it not just a tennis experience, but an entertainment experience! There is going to be music, there is going to be different restaurants. I think there are going to be people that get a grounds pass and be able to hang out on there and watch on the biggest video screen in the sport of tennis. We're so lucky to have, other tennis tournaments don't have this culture, the culture of Miami. We've got beautiful murals up on some of the outer courts, and then you've got the crowd. It's going to be pretty special. When you see it up close, you can really appreciate it so much more than when you see it on tv because you can appreciate how strong these athletes are, how fast they are, how fast the ball is moving."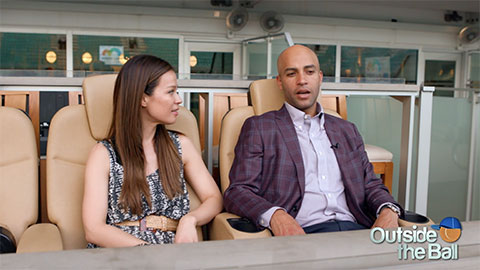 From the stadium to the outer courts and everything in between, Outside the Ball explored the event. "This is a playground" Mayleen exclaimed as the team talked to mural artists and checked out the most Instagramable spots around the grounds. We can not wait to return to Miami for the Miami Open in 2022 and cheer on the pros with all the fans!