With the party and pre-tournament obligations behind us, our host Mayleen Ramey headed back to the Miami Open for the third episode of Beyond the Game to experience the beautiful new venue as a fan.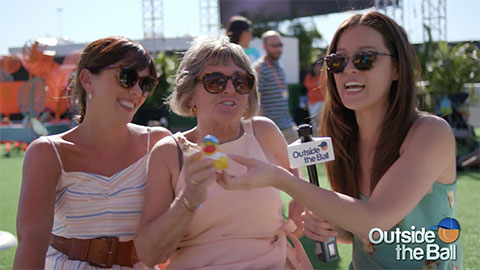 In addition to watching the pros on court at the Miami Open, tennis lovers have a chance to play along side them. Lacoste took things to a virtual level, allowing fans to see how their serve matched up to world number one Novak Djokovic. "Yes! That was good. That was good timing. I mean, it's not as good as Novak but close." Mayleen cheered as she reviewed her serve on the screen. The host also stuck around to cheer on other players and reward them with our mascot Chuck the Duck.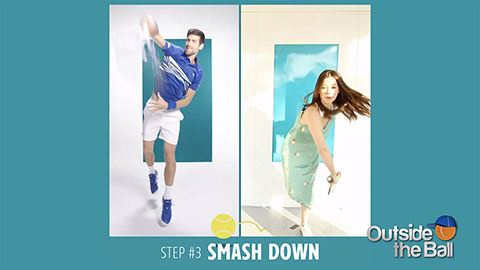 At Outside the Ball we love to give prizes away to our fans at tournaments and through social media so Mayleen had some shopping to do. She headed to the souvenir tent to find the perfect products our fans would love, such as a Miami Open reusable water bottle and a tournament hat. Now that we got the gear, the fans would have to work for their chance to win. Mayleen found groups of eager tennis fans to play our Angelique Kerber Fan Challenge. Mayleen challenged them to answer questions about the WTA star including how many Grand Slams she's won, the name of her favorite football club, and to tell us if Angie writes left or right handed. Teamwork makes the dream work as one of our teams took home the goods!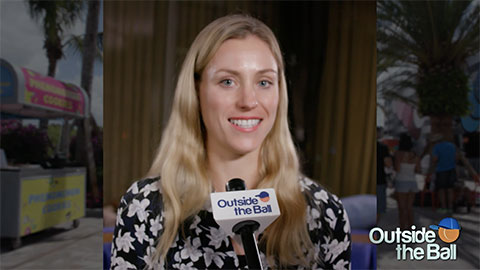 We could spend all day enjoying the grounds and hanging with the fans, but it was time to watch some tennis. Having enjoyed the world class tennis, amazing fans and all the Miami Open has to offer, there was only one thing left to do. Mayleen ended our Beyond the Game series with a boat and a drone, getting the true Miami experience from the water. Thank you for watching and stay tuned for more adventures at Outside the Ball!