Marcelo Melo mixed things up at the Taste of Tennis event in New York City when he played sous chef alongside Outside the Ball host, Mayleen Ramey. Under the teachings of famed chef Seamus Mullen, the new culinary duo whipped up a delicious vinaigrette for a healthy meal.
The key ingredient in their vinaigrette was Lifeway's Kefir, a probiotic drink that is similar to a drinkable yogurt. Lifeway, however, likes to refer to Kefir as "the champagne of dairy". As the Kefir base stirs in with a little olive oil the Brazilian admits he's never made a vinaigrette before and will need some direction. It's all in the wrist, Marcelo!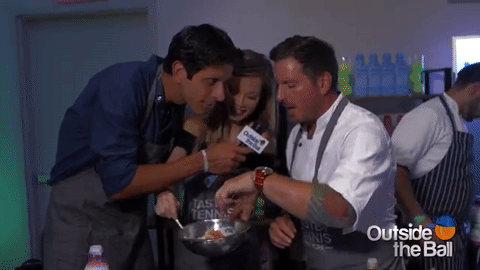 "Looks tasty! Mmm" the tennis star exclaimed as they add fresh watermelon, heirloom tomato and avocado to create the perfect summer flavor. To end their culinary triumph, the team toasted their dish with a glass of watermelon Kefir. This is one video that will make you head to the fridge!