After turning pro in the year 2000, Julien Benneteau has had a long career that includes reaching the top 25 in the world. Benneteau announced 2018 would be his last year on tour, and Outside the Ball couldn't let Julien leave without releasing never before seen clips from our interview with him in August where he poked fun at fellow player Nicolas Mahut and spoke about ending his career.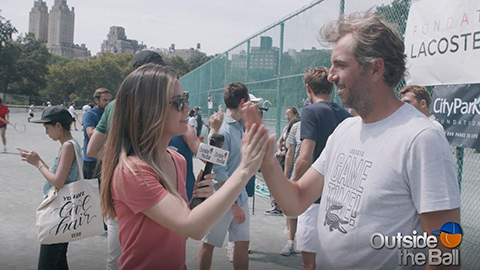 Ahead of the US Open, Outside the Ball's Mayleen Ramey attended the free Lacoste tennis clinic in Central Park. While interviewing Frenchman Nicolas Mahut about his adorable son, Benneteau crashed the conversation. "So beautiful. You're handsome!" Julien interjected as he placed his face closer to Nicolas. "No. She was talking about my son!" Mahut corrected. For Julien, the fun was only beginning. "When you see his son how beautiful he is, you don't think he can have a father like this, huh?", Julien quipped before walking away. Nicolas turned his focus back onto the interviewer. "He's been a friend of mine for 25 years, you see. With friends like this, you don't need enemies!"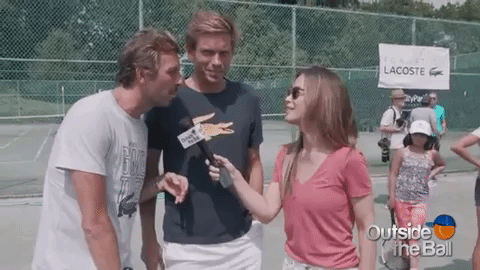 It was time to interview Benneteau himself. The French star planned to end his career after the US Open and opened up to Mayleen about the emotional finale. "When I was a kid I had a dream to be a professional tennis player and I was able to realize that dream. A big part of my life is going to end after this tournament so yeah, I'm getting emotional a little bit."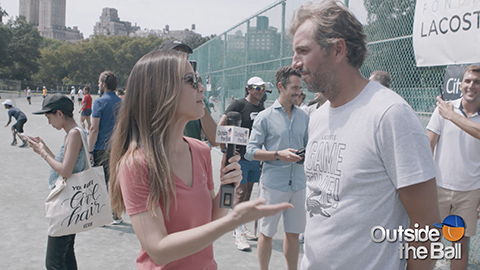 Tennis fans were able to enjoy Julien and his game one last time as he returned to the court in the following month for the Davis Cup semi-finals that sent France into the final round against Croatia. We thank Julien Benneteau for playing tennis, inspiring so many people, and joining us at Outside the Ball!