In this week's featured video, Victoria Azarenka joins host Mayleen Ramey to talk about the strength of womanhood and the interesting moments of being a mother. Balancing work and being a mom isn't an easy task, but women like Victoria Azarenka and Serena Williams are changing the game forever. The inspiring WTA stars continued to make headlines when they competed head to head on International Women's Day. "You couldn't ask for a better scenario right?" Victoria smiled. "It was a really special moment! I thought it was great for women sport. It was really fun and one of the best moments you can ask for!"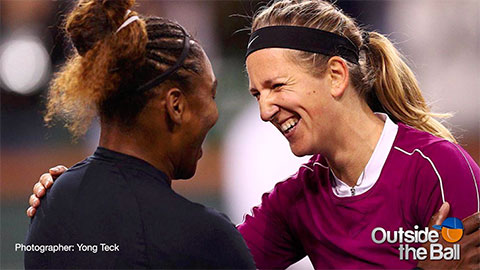 While Azarenka excites fans on the court, at home she is just "Mom" to her son Leo. "For Leo mom is mom. Mom is not a tennis player, mom doesn't have a job. I mean he says mom work, but for him it's all about mom being Leo's mom. He doesn't let me talk to anybody, he doesn't let me use the phone when I'm around him!" Victoria described of the protective little boy. "It's my mom, not to you anybody! I mean it's very sweet but sometimes it's a little bit interesting," she concluded with a laugh.
As a powerful woman, an athlete, and a mother, Victoria Azarenka will go on to empower fans across the world and Leo will grow up to learn how cool his mom is!