Get your popcorn ready because the third episode of Beyond the Game serves a dramatic conclusion to Outside the Ball's fun with film! Beyond the Game is a reality style series that takes viewers behind the scenes of the London grass court season. This week, host Mayleen Ramey became a casting director to create an epic James Bond film with an ultimate tennis twist.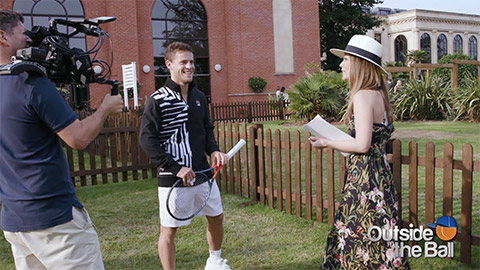 The James Bond movie Goldfinger was filmed in London's Stoke Park in 1964, starring Sean Connery. While playing in Stoke Park for The Boodles exhibition, ATP players transformed themselves into iconic Bond characters. In our previous episode, Denis Shapovalov and Diego Schwartzman revealed themselves as the villainous Oddjob and Goldfinger, while Karen Khachanov surprised fans with a handsome impression of actor Liam Hemsworth. This time, Outside the Ball is in search of their James Bond star. With some encouragement from Shapovalov, Tomas Berdych accepted the audition of a lifetime. "Berdych, Tomas Berdych," the tennis star recited to the camera before admitting he can drive fast and attempted to speak in a British accent. The final test for our hero was a fight scene, taking out the bad guy in a single punch.
Now that our cast of characters found the perfect role, it was time for lights, camera, action! With all the mystery and intrigue of a traditional Bond film. Ramey and the tennis players starred in a cinematic trailer for our film, License to Serve. You've never seen the pros like this before, but after their career on the tennis court has completed, maybe they will find the big screen once again. Tune in next week as Beyond the Game continues with a glamorous night out with the ladies of the WTA.