For years, tennis super fan Chris Fava has wowed Wimbledon audiences with his detailed costume designs. You've watched Chris sit courtside dressed as a strawberry, the men's championship trophy and now Beyond the Game takes you inside the reveal of his latest creation.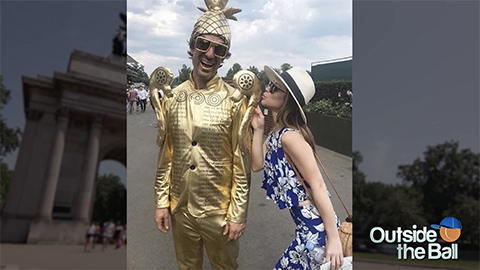 Over the last few weeks, our Beyond the Game series has taken you behind the scenes of the London grass court season, from making movie magic with the ATP to walking the red carpet with the ladies of the WTA. In this episode, host Mayleen Ramey joins our friend Chris to see what it's like to be a viral sensation. Our video begins in the Wimbledon queue where fans like Chris camp out to get the best seat in the house.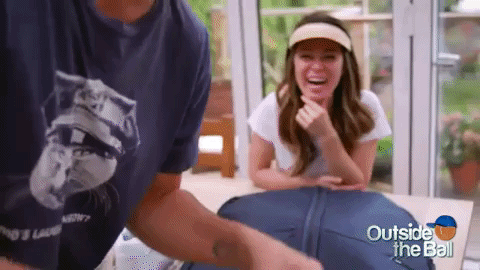 Mayleen got a sneak peek of the 2019 creation, but after sharing a few laughs on what the design could be, Chris was still keeping the costume a secret from our cameras. That was until the two attended a party with Grand Slam Tennis Tours. "You are a court?" Kyle Ross guessed to a surprised Fava. "He just blurted it out!" Chris exclaimed.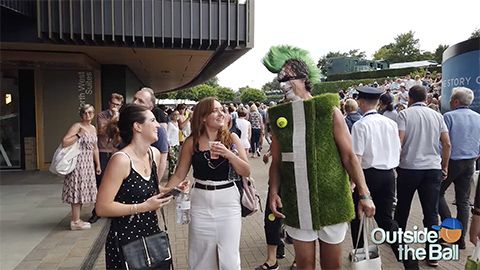 That's right! The 2019 Wimbledon costume was Center Court. Chris made his public debut to the delight of fans and media. After taking in some tennis on Center Court, Center Court Man had a day of taking photos with fans and TV interviews. It was an exciting experience to witness the epic costume coming together before Chris and Mayleen left the Wimbledon grounds together. That's a wrap!