Earlier this week Outside the Ball was excited to announce that an interview with our host Mayleen Ramey was included in the 7th issue of Courts Magazine. In honor of the awesome magazine, out now in France, we're taking a fun look back at our time chatting with French tennis stars.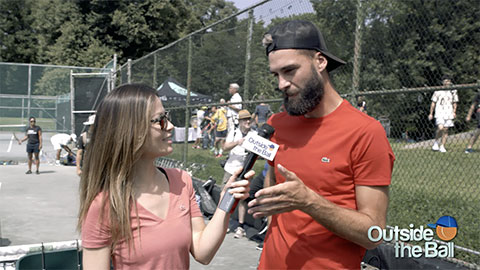 At the annual free tennis clinic held by Lacoste and the Central Park Foundation, pros gather for a playful afternoon in Central Park. In between hitting with kids in New York City, Nicolas Mahut, Julien Benneteau, and Benoit Paire joined Mayleen in front of our cameras. The interview had a comical start when Nicolas Mahut was interrupted by his friend of 25 years, Julien Benneteau. When Julien overheard Nicolas and Mayleen talking about someone adorable, he couldn't help but interject. "You're handsome!" Benneteau joked. "No, she was talking about my son!" Mahut corrected. The teasing continued. "When you see his son, how beautiful he is, you don't think he could have a father like this."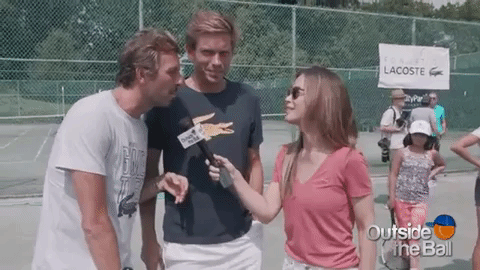 After a little banter between compatriots, Mahut went on to tell our host which tennis players he looked up to as role models. "I had Pete Sampras and Stefan Edberg. I wanted to be as elegant as them on court, and yeah, they were my heroes. For Julien Benneteau, his idols were closer to home. "The French ones because these were the ones that we saw. Guy Forget, Henri Leconte, Thierry Tulasne."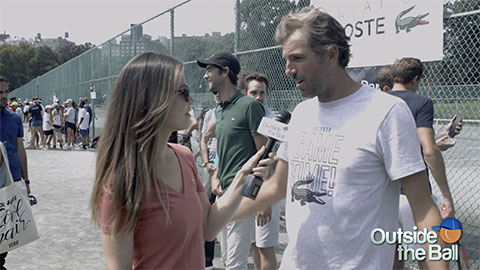 Benoit Paire doesn't lack personality on or off the court, so his idol growing up was a perfect match. "Marat Safin, he was one of my idols. He was a little crazy on court so I like it, even if I'm not as crazy like him." Paire said with a smile. The interview couldn't end without discussing Benoit's hair styles. The Lacoste pro was rocking the blonde but was thinking about adding color. "Something between purple or pink, I don't know yet. Like your shirt." The player described before joking about getting the Lacoste crocodile on the side.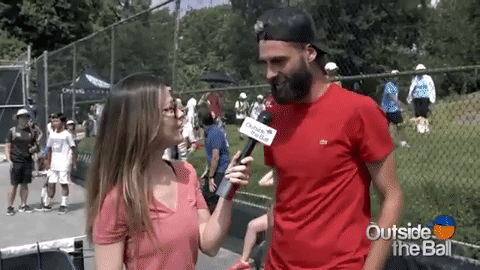 Thank you for watching our video with Team France! Be sure to grab a copy of the latest issue of Courts Magazine and stay tuned for new interviews with your favorite stars here at Outside the Ball.