Every year in March, the world comes together for International Women's Day as a way to celebrate the achievements of women and to shine a light on women's rights. To mark the occasion Outside the Ball host Mayleen Ramey spoke to WTA stars Angelique Kerber and Coco Vandeweghe about the women who inspire them.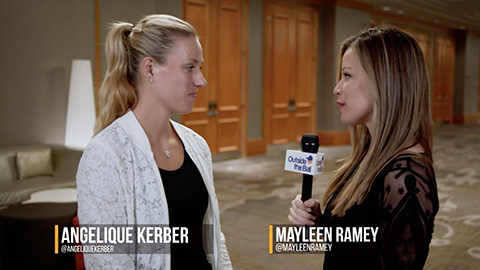 The players of the WTA inspire women and young girls throughout their careers, but for many, their biggest influences start at home. "Of course my family like my mom, my sister and my grandma. That's very personal for me!" Kerber explained. Vandeweghe had similar experiences. "My grandmother and my mom are the strongest women I know so shout out to both of them! For sure. Every day of my life!"
When it comes to the court, Angelique also described which famous tennis player she idolized as a child. "When I was growing up it was always Steffi Graf, my tennis idol. She was always inspiring me! I know the feeling when you meet your inspiration and you're really nervous actually. In front of me it was Steffi and I was like ok what can I ask her?" Kerber reminisced with laughter.
We enjoyed learning about the influential women behind our favorite tennis players and we hope you are able to spend the day with the women who inspire you!