Week of October 17, 2016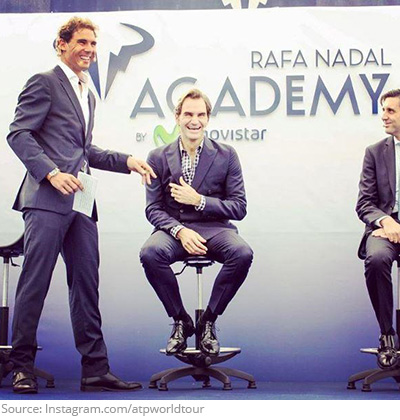 1. Friendship Academy! Roger Federer couldn't miss the official opening of the Rafa Nadal tennis academy and we couldn't miss the opportunity to stare at them in awe!

2. The sweetest sounding selfie! Roberta Vinci looked bubbly as she met singer Michael Buble!

3. Furry fans! This cuddly Lion couldn't wait to get a photo with Carla Suarez Navarro who he thinks is the cat's pajamas!

4. Backhanded compliment! Pierre Hugues Herbert wanted to work on his backhand. Luckily for him, David Goffin was there with appropriate attire! #BelieveInTheShirt

5. Supersize me! Simona Halep is making a racket with her new service game! Who's up for the challenge?!

6. That face you make when you're in love! Newlyweds Fabio Fognini and Flavia Pennetta show that true love looks a lot like Snapchat!

7. You spin me right round, baby! Genie Bouchard's hips don't lie as she hula hoops around the Linz tournament!

8. Shopping spree after victory! Aga Radwanska earned her 20th WTA title at the China Open and Angelique Kerber finishes the year as world number one! If this is not the time to treat yourself, we don't know what is!

9. Seeing stars! Taylor Swift extends her girl squad with none other than Serena Williams! We think it's time for Serena to star in another music video!

10. Can you guess how many tennis stars can fit in a Peugeot? David Goffin, David Ferrer, Tommy Robredo and Gilles Simon showoff their new hot wheels!
Stay tuned next week for OTB's Top10s Photos!
Related Videos: